Following
Mark Goodacre's
lead I'd like to refer to Mark Chancey's excellent book:
The Myth of a Gentile Galilee
The Myth of a Gentile Galilee is the most thorough synthesis to date of archaeological and literary evidence relating to the population of Galilee in the first-century CE. The book demonstrates that, contrary to the perceptions of many New Testament scholars, the overwhelming majority of first-century Galileans were Jews. Utilizing the gospels, the writings of Josephus, and published archaeological excavation reports, Mark A. Chancey traces the historical development of the region's population and examines in detail specific cities and villages, finding ample indications of Jewish inhabitants and virtually none for gentiles. He argues that any New Testament scholarship that attempts to contextualize the Historical Jesus or the Jesus movement in Galilee must acknowledge and pay due attention to the region's predominantly Jewish milieu. This accessible book will be of interest to New Testament scholars as well as scholars of Judaica, Syro-Palestinian archaeology, and the Roman Near East.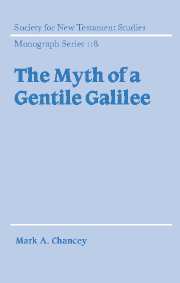 Sean Freyne once said that the quest for the historical Jesus is quickly becoming the quest for the historical Galilee (I think Meier said something similar about the Pharisees). You only have to compare Horsley and Freyne on the topic to know how disputed the questions about Galilee are: did the Assyrians did populate the area in the 7th century BC? How hellenized was Galilee? What influence did the Maccabees have in Judaizing the area? Chancey presents a compelling case, contra those of the Cynic Jesus hypothesis, that Galilee was fundamentally Jewish and not a cosmopolitan entity. That is not to say that Galilee was untouched by Hellenism, it clearly was, but Galilee did not loose its distinctly Jewish flavour. I also found that Jonathan Reed's book on Galilee and the Historical Jesus is good book to in tandem with Chancey as they come to similar conclusions on some issues. I also think Chancey's book represents a good model of how to turn a Ph.D into a book and, best of all, an excellent synthesis of literary and archaeological studies.
Note: He is also the author of a forthcoming monograph, entitled
Greco-Roman Culture and the Galilee of Jesus
(also Cambridge University Press).